Luce
Regular price
$531.00 USD
Regular price
Sale price
$531.00 USD
Unit price
per
Sale
Sold out
Size Chart
The Luce coat is made with love and passion in the finest materials. They are Silk velvet, cut in a longline silhouette with authentic Uzbek silk ikat lapel. We choose the lining carefully from fine cotton for ultimate comfort. 
This timeless piece is elegant, cool, and easy to wear on any occasion, may it be a night out or dressed down during the day with jeans and sneakers. 
Feel free to contact us for any specific custom-size request.

Composition :
Outer: 80% Velvet / 20% Silk Velvet Ikar.
Lining: 100% Cotton.

Fit and sizing :
Model is 5ft 9" (175cm).
Designed for an oversized look, One Size fits most from S to XL.
Share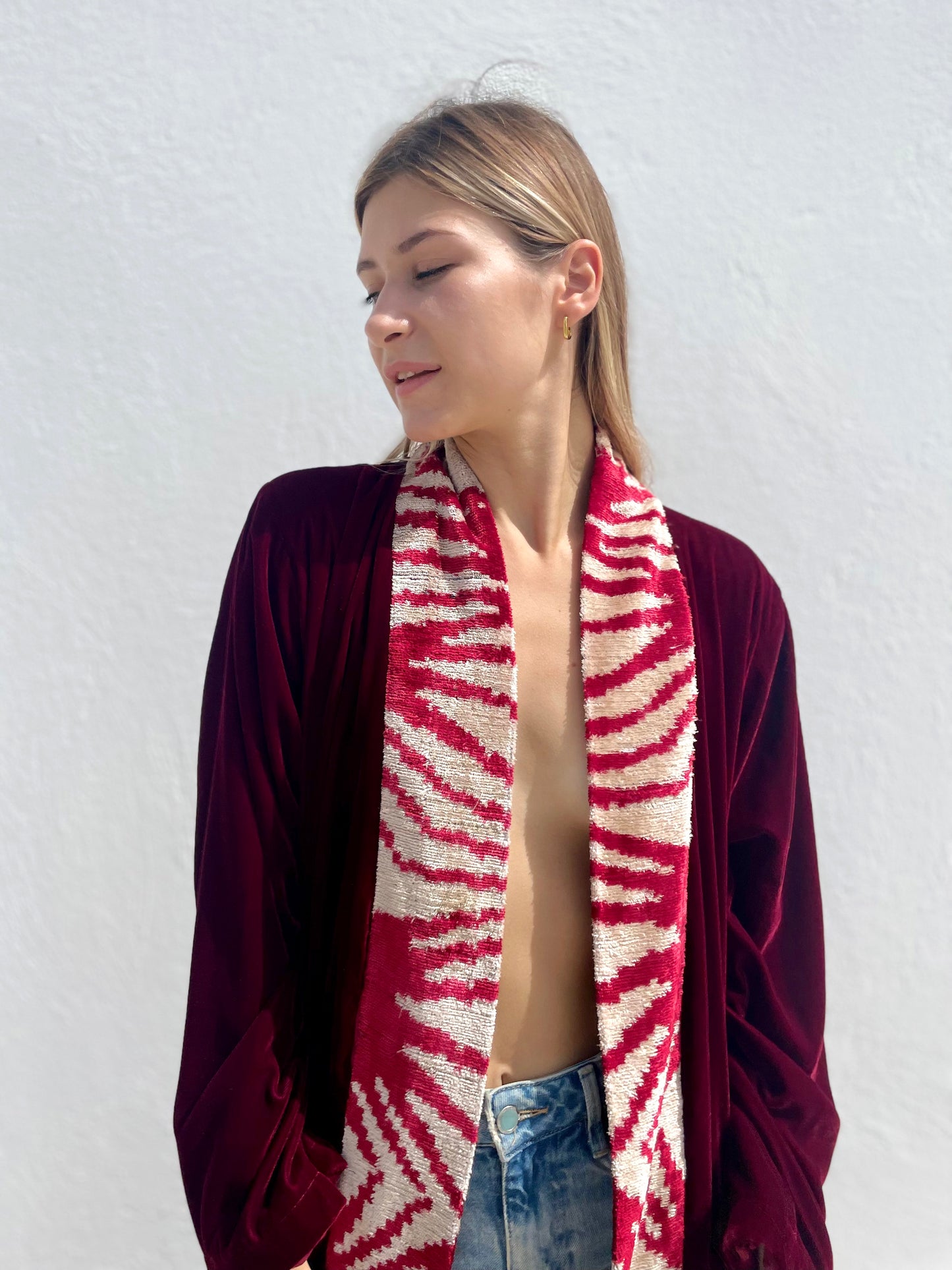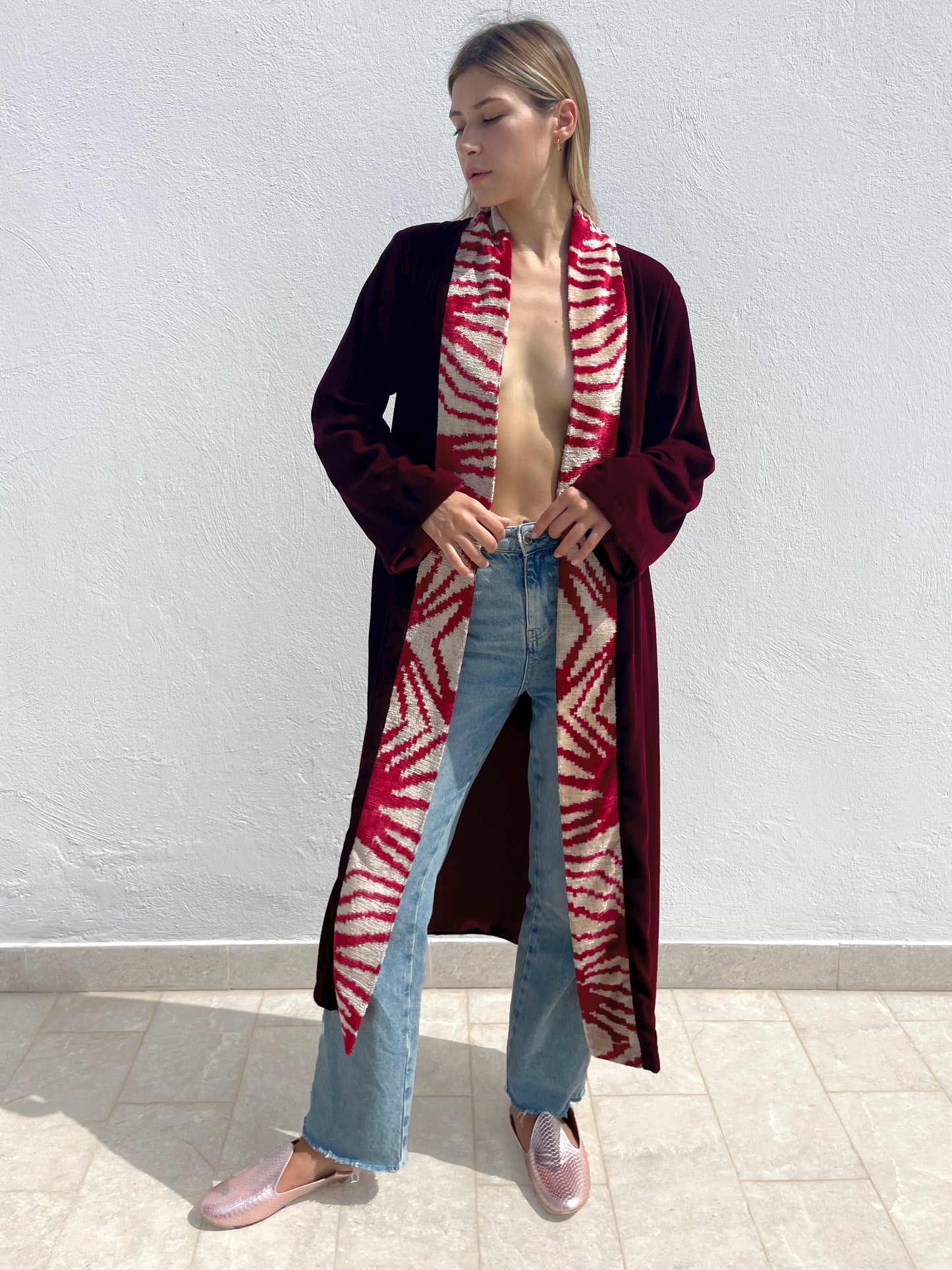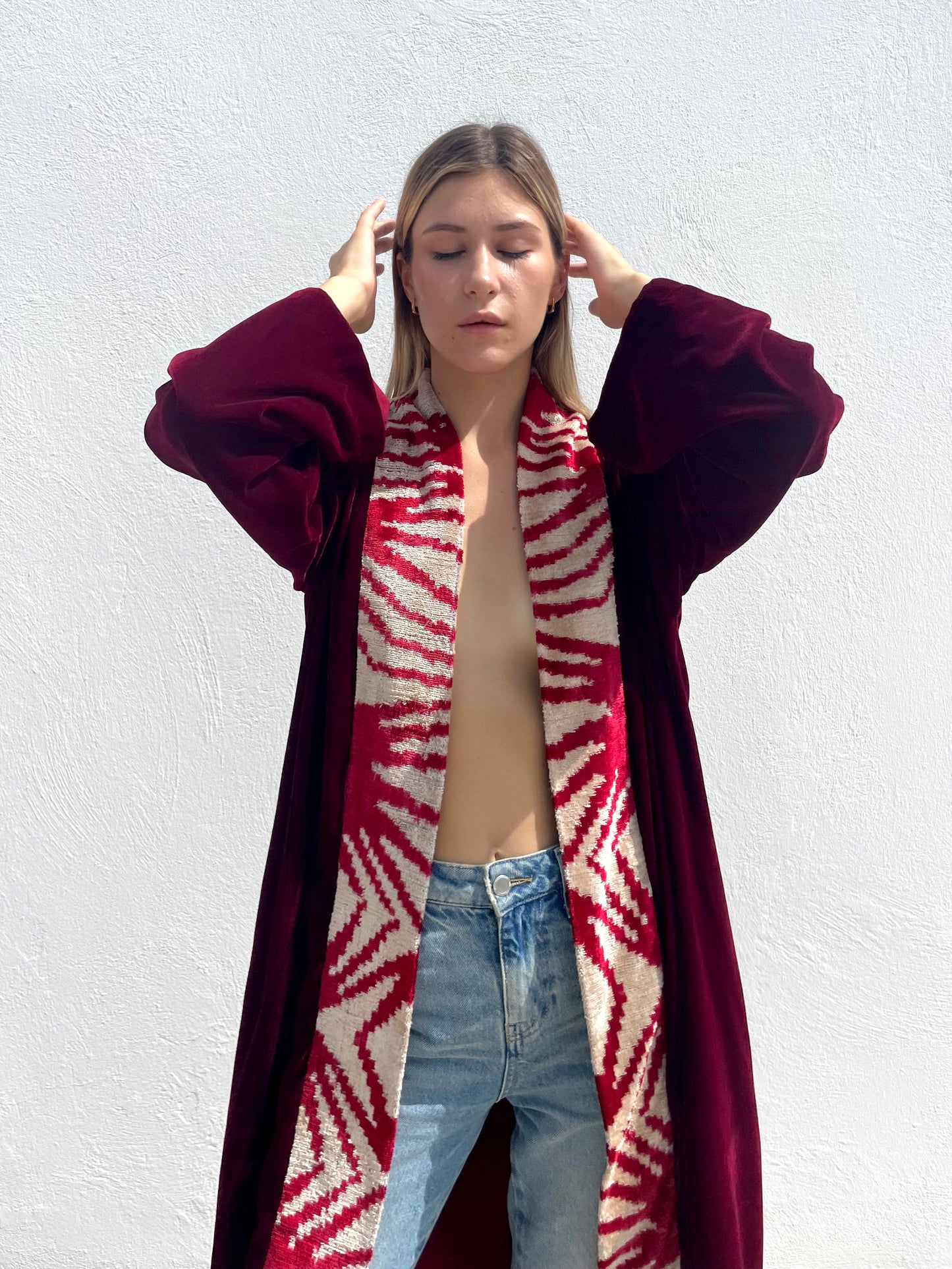 Size Chart
Coats / Jackets
UK
6
8
10
12
14
16
18
20
USA
2
4
 6
8
10
12
14
16
France
34
36
38
40
42
44
46
48
Above Bust

 

(cm)
77
79
83
87
92
97
103
109
Bust

 

(cm)
82
84
88
92
97
102
108
114
Below Bust (cm)
68
70
74
78
83
88
94
100
Sleeve Length (cm)
61.7
62
62.3
62.6
63
63.4
63.9
64.4
Bicep (cm)
31.5
32
33.4
34.8
36.7
38.6
41
43.4
Dresses
UK
6
8
10
12
14
16
18
20
USA
2
4
 6
8
10
12
14
16
France
34
36
38
40
42
44
46
48
Above Bust

 

(cm)
77
79
83
87
92
97
103
109
Bust  (cm)
82
84
88
92
97
102
108
114
Below Bust

 

(cm)
68
70
74
78
83
88
94
100
Waist

 

(cm)
62
64
68
7
77
82
88
94
High Hip

 

(10cm from waist)
79
81
85
89
94
99
105
111
Skirt Length

 

(Pencil Skirt)
65
65
65
65
65
65
65
Jumpsuits
UK
6
8
10
12
14
16
18
20
USA
2
4
 6
8
10
12
14
16
France
34
36
38
40
42
44
46
48
Above Bust (cm)
77
79
83
87
92
97
103
109
Bust (cm)
82
84
88
92
97
102
108
114
Below Bust (cm)
68
70
74
78
83
88
94
100
Waist (cm)
62
64
68
7
77
82
88
94
Outside Leg

 

(cm)
127.7
128
128.5
129
129.6
130.2
131
131.7
Gowns
UK
6
8
10
12
14
16
18
20
USA
2
4
 6
8
10
12
14
16
France
34
36
38
40
42
44
46
48
Above Bust

 

(cm)
77
79
83
87
92
97
103
109
Bust (cm)
82
84
88
92
97
102
108
114
Below Bust (cm)
68
70
74
78
83
88
94
100
Waist (cm)
62
64
68
7
77
82
Tops
UK
6
8
10
12
14
16
18
20
USA
2
4
 6
8
10
12
14
16
France
34
36
38
40
42
44
46
48
Above Bust

 

(cm)
77
79
83
87
92
97
103
109
Bust (cm)
82
84
88
92
97
102
108
114
Below Bust (cm)
68
70
74
78
83
88
94
100
Sleeve Length (cm)
59.7
60
60.3
60.6
61
61.4
61.9
62.4
Trousers
UK
6
8
10
12
14
16
18
20
USA
2
4
 6
8
10
12
14
16
France
34
36
38
40
42
44
46
48
Waist (cm)
62
64
68
72
77
82
88
94
High Hip

 

(10cm from waist)
79
81
85
89
94
99
105
111
Outside Leg (cm)
127.7
128
128.5
129
129.6
130.2
131
131.7
Skirts
UK
6
8
10
12
14
16
18
20
USA
2
4
 6
8
10
12
14
16
France
34
36
38
40
42
44
46
48
Waist (cm)
62
64
68
7
77
82
88
94
High Hip

 

(10cm from waist)
79
81
85
89
94
99
105
111
Skirt Length

 

(Pencil Skirt)
65
65
65
65
65
65
65
65