Lakshmi - Embroidered Light Kimono
Regular price
$193.00 USD
Regular price
$278.00 USD
Sale price
$193.00 USD
Unit price
per
Sale
Sold out
Size Chart
Kimono featured in a wide cut and open silhouette. Featuring an all-over leafy print. What makes this beautiful piece special is the front sequinned embellishment that gives it that little extra.
Made from light chiffon. Tones of brown dark and gold. Equally goes with gold pants or any gold, brown or black swimsuit. 
Only a few pieces are available 
Fit and sizing :
Model is 5ft 6" (168cm).
Care instructions

Cold wash with extra care
Share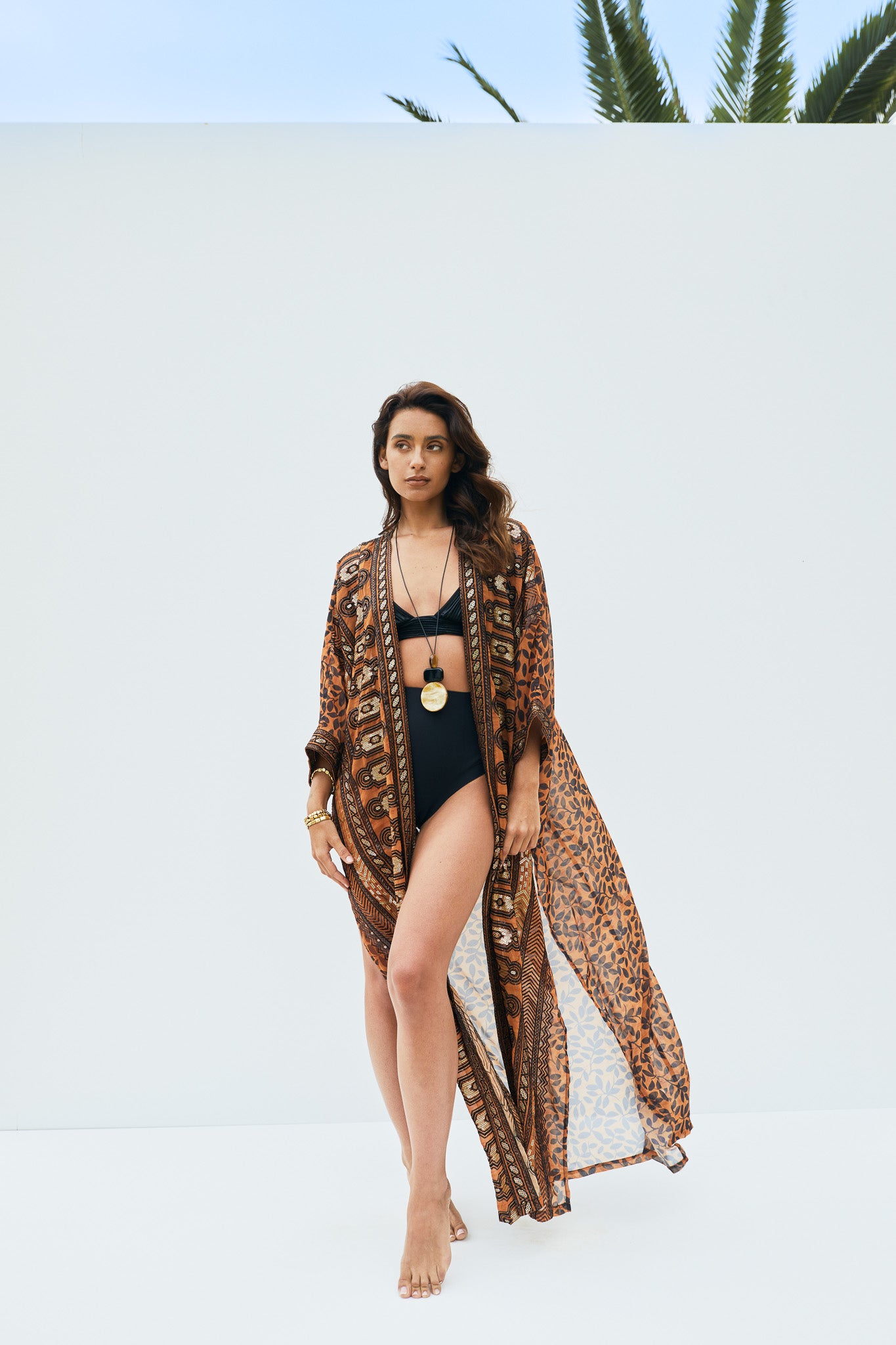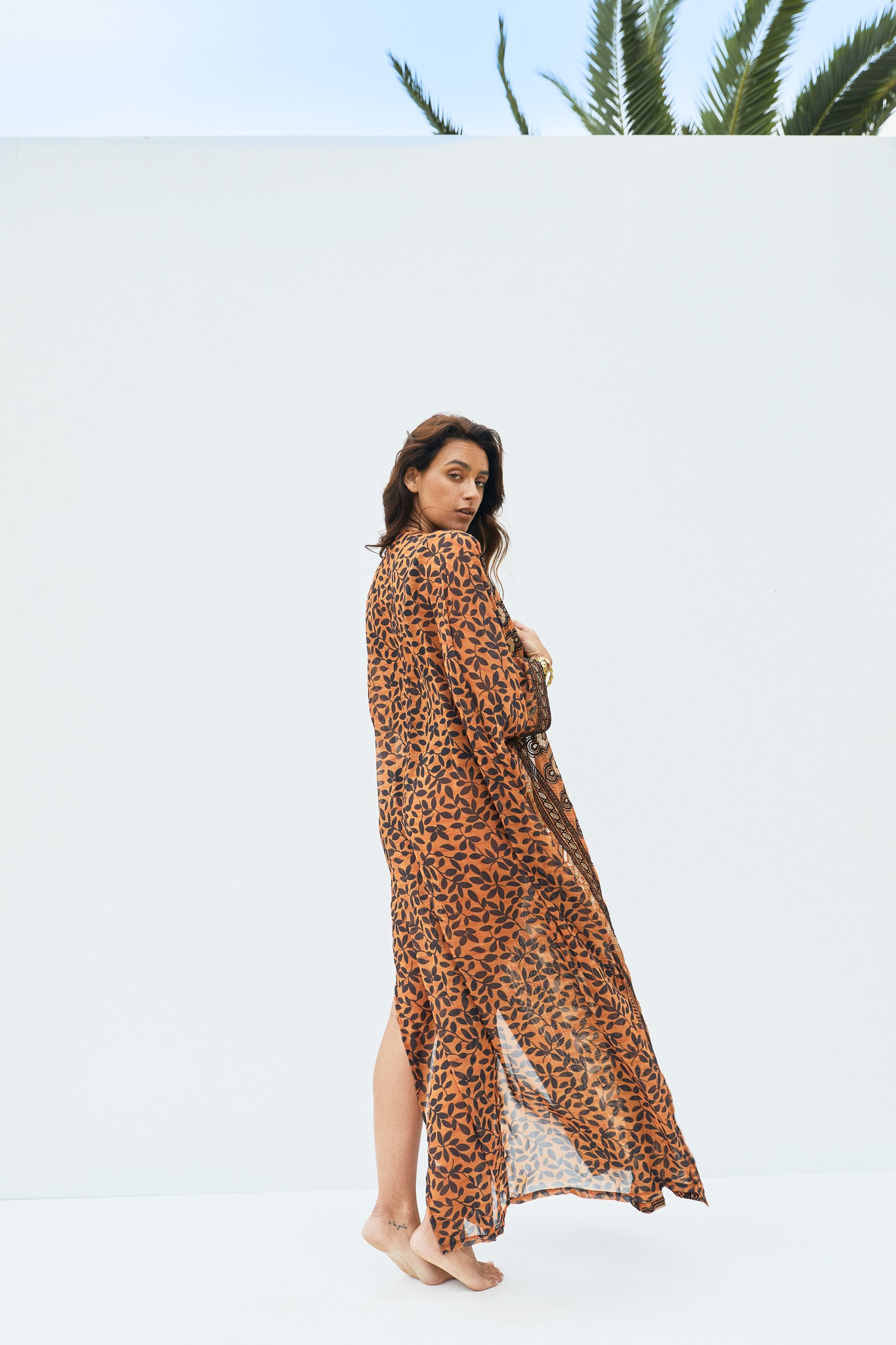 Size Chart
Coats / Jackets
UK
6
8
10
12
14
16
18
20
USA
2
4
 6
8
10
12
14
16
France
34
36
38
40
42
44
46
48
Above Bust

 

(cm)
77
79
83
87
92
97
103
109
Bust

 

(cm)
82
84
88
92
97
102
108
114
Below Bust (cm)
68
70
74
78
83
88
94
100
Sleeve Length (cm)
61.7
62
62.3
62.6
63
63.4
63.9
64.4
Bicep (cm)
31.5
32
33.4
34.8
36.7
38.6
41
43.4
Dresses
UK
6
8
10
12
14
16
18
20
USA
2
4
 6
8
10
12
14
16
France
34
36
38
40
42
44
46
48
Above Bust

 

(cm)
77
79
83
87
92
97
103
109
Bust  (cm)
82
84
88
92
97
102
108
114
Below Bust

 

(cm)
68
70
74
78
83
88
94
100
Waist

 

(cm)
62
64
68
7
77
82
88
94
High Hip

 

(10cm from waist)
79
81
85
89
94
99
105
111
Skirt Length

 

(Pencil Skirt)
65
65
65
65
65
65
65
Jumpsuits
UK
6
8
10
12
14
16
18
20
USA
2
4
 6
8
10
12
14
16
France
34
36
38
40
42
44
46
48
Above Bust (cm)
77
79
83
87
92
97
103
109
Bust (cm)
82
84
88
92
97
102
108
114
Below Bust (cm)
68
70
74
78
83
88
94
100
Waist (cm)
62
64
68
7
77
82
88
94
Outside Leg

 

(cm)
127.7
128
128.5
129
129.6
130.2
131
131.7
Gowns
UK
6
8
10
12
14
16
18
20
USA
2
4
 6
8
10
12
14
16
France
34
36
38
40
42
44
46
48
Above Bust

 

(cm)
77
79
83
87
92
97
103
109
Bust (cm)
82
84
88
92
97
102
108
114
Below Bust (cm)
68
70
74
78
83
88
94
100
Waist (cm)
62
64
68
7
77
82
Tops
UK
6
8
10
12
14
16
18
20
USA
2
4
 6
8
10
12
14
16
France
34
36
38
40
42
44
46
48
Above Bust

 

(cm)
77
79
83
87
92
97
103
109
Bust (cm)
82
84
88
92
97
102
108
114
Below Bust (cm)
68
70
74
78
83
88
94
100
Sleeve Length (cm)
59.7
60
60.3
60.6
61
61.4
61.9
62.4
Trousers
UK
6
8
10
12
14
16
18
20
USA
2
4
 6
8
10
12
14
16
France
34
36
38
40
42
44
46
48
Waist (cm)
62
64
68
72
77
82
88
94
High Hip

 

(10cm from waist)
79
81
85
89
94
99
105
111
Outside Leg (cm)
127.7
128
128.5
129
129.6
130.2
131
131.7
Skirts
UK
6
8
10
12
14
16
18
20
USA
2
4
 6
8
10
12
14
16
France
34
36
38
40
42
44
46
48
Waist (cm)
62
64
68
7
77
82
88
94
High Hip

 

(10cm from waist)
79
81
85
89
94
99
105
111
Skirt Length

 

(Pencil Skirt)
65
65
65
65
65
65
65
65