Dengri - Loose Metallic Jacket
Regular price
$150.00 USD
Regular price
Sale price
$150.00 USD
Unit price
per
Sale
Sold out
Size Chart
Our very own interpretation of the Chinese worker jacket, that spread to become also the Mediterranean worker garment: Dengri. We could not resist making it shiny, velvety metallic fabrication. This seasoneless piece is slighlty oversized, and goes with literally anything. This piece is gonna be your go to for any special occasion where you want to shine a little and feel extra comfortable! Perfectly paired with anyhing, jeans , a little black dress, shorts, heels, snickers, you name it !
Model is wearing S/L
Care instructions

Dry clean only - we recommend you use an eco-friendly provider that avoids harsh chemicals.
Share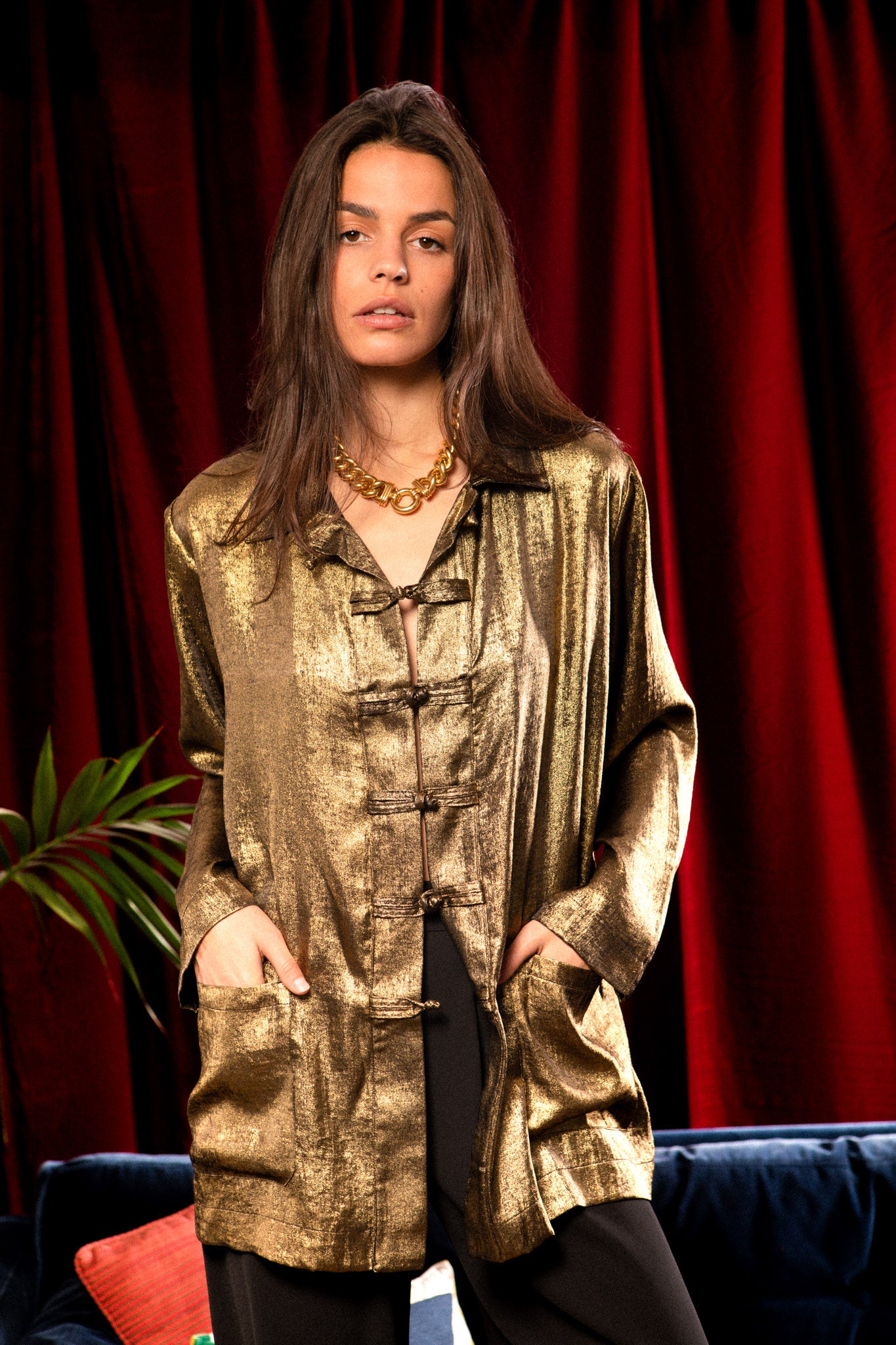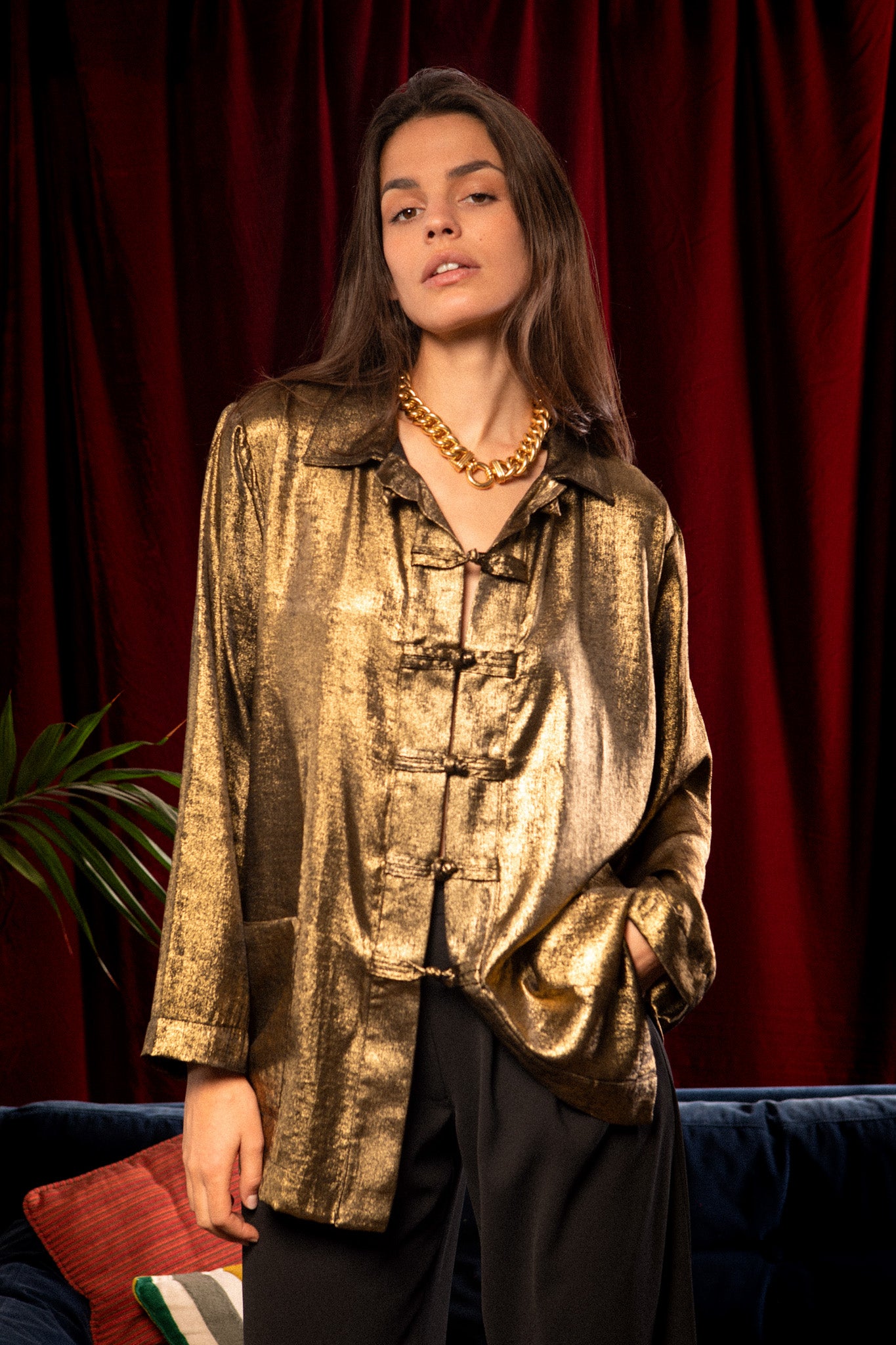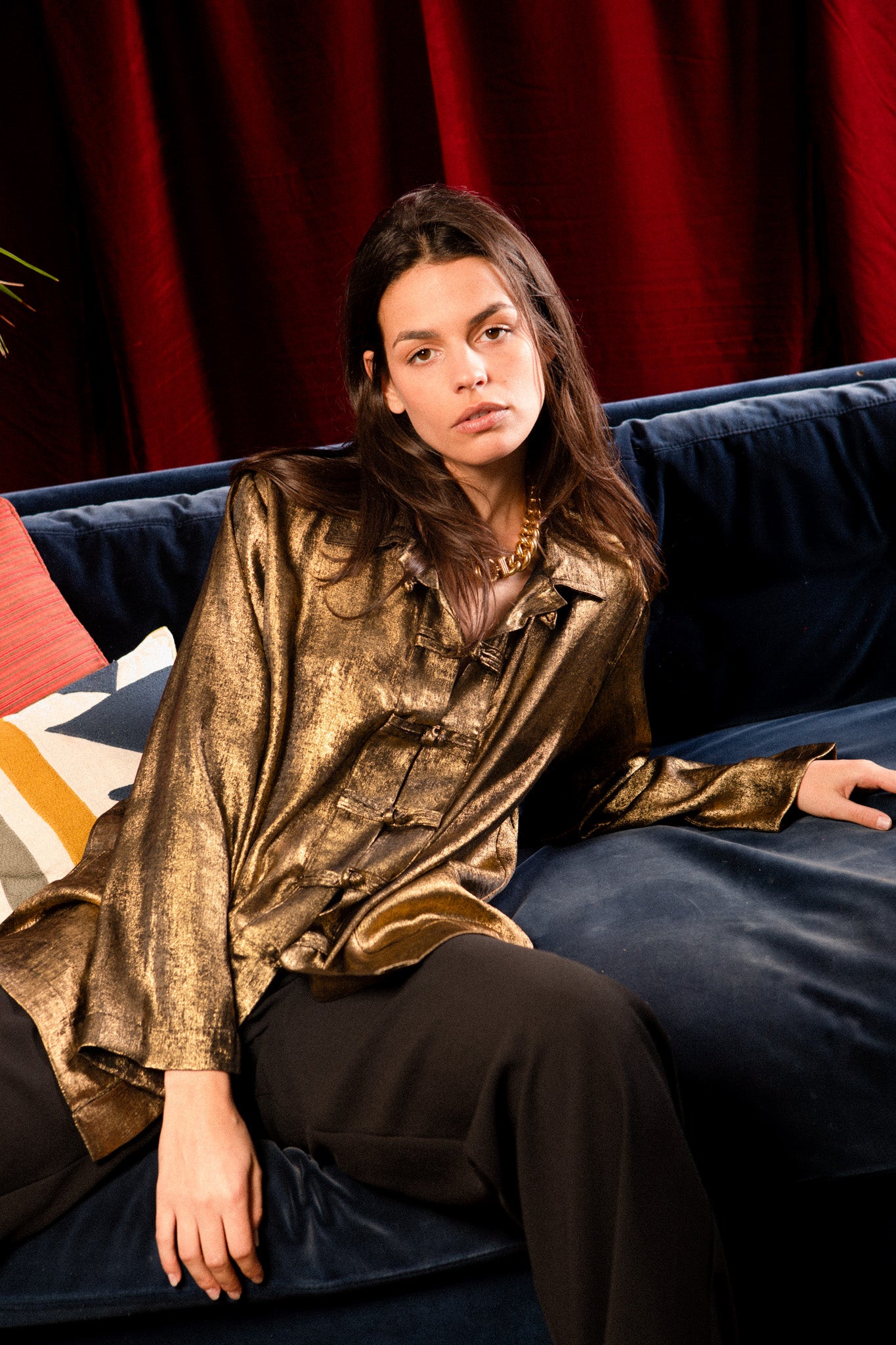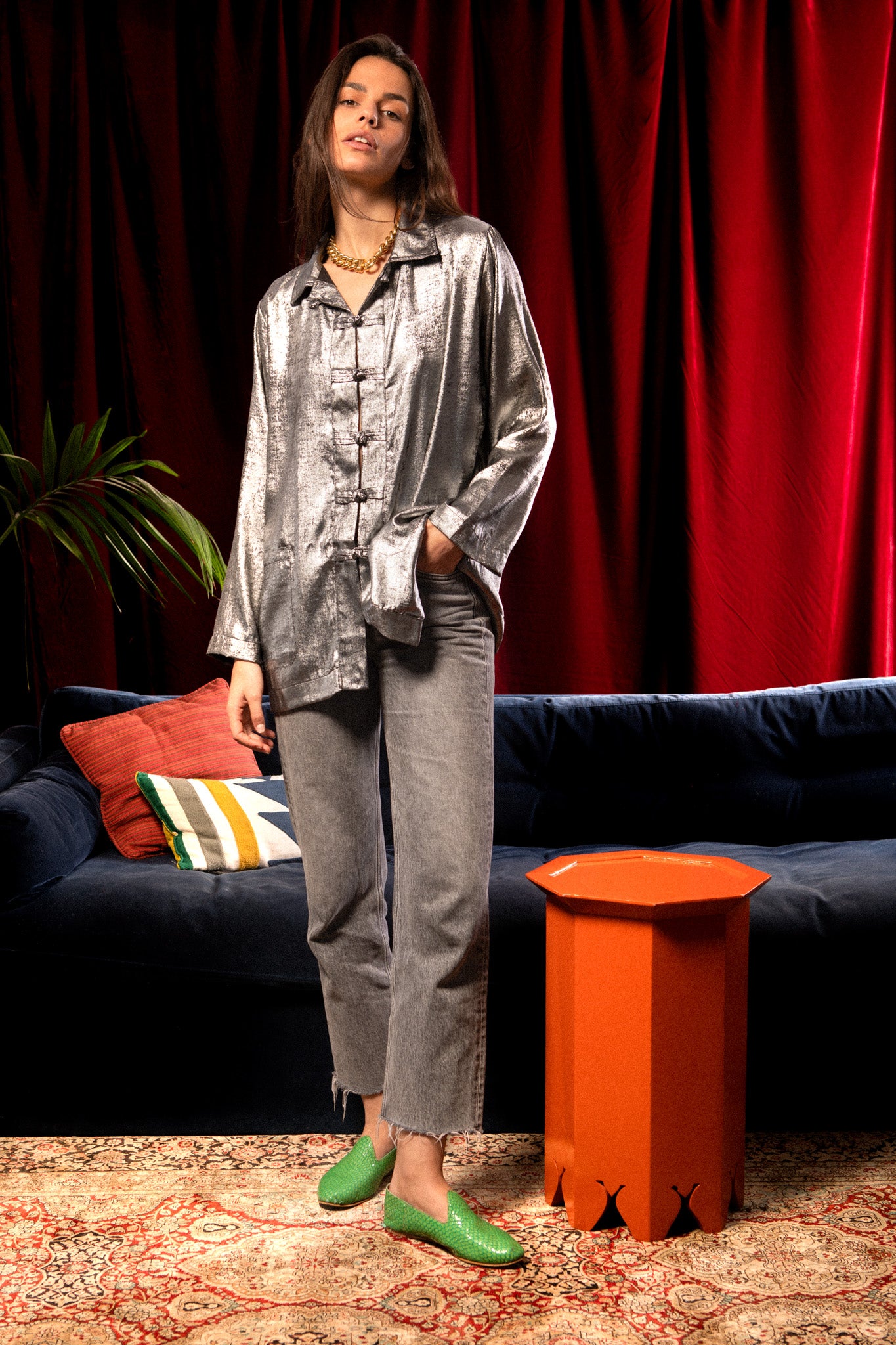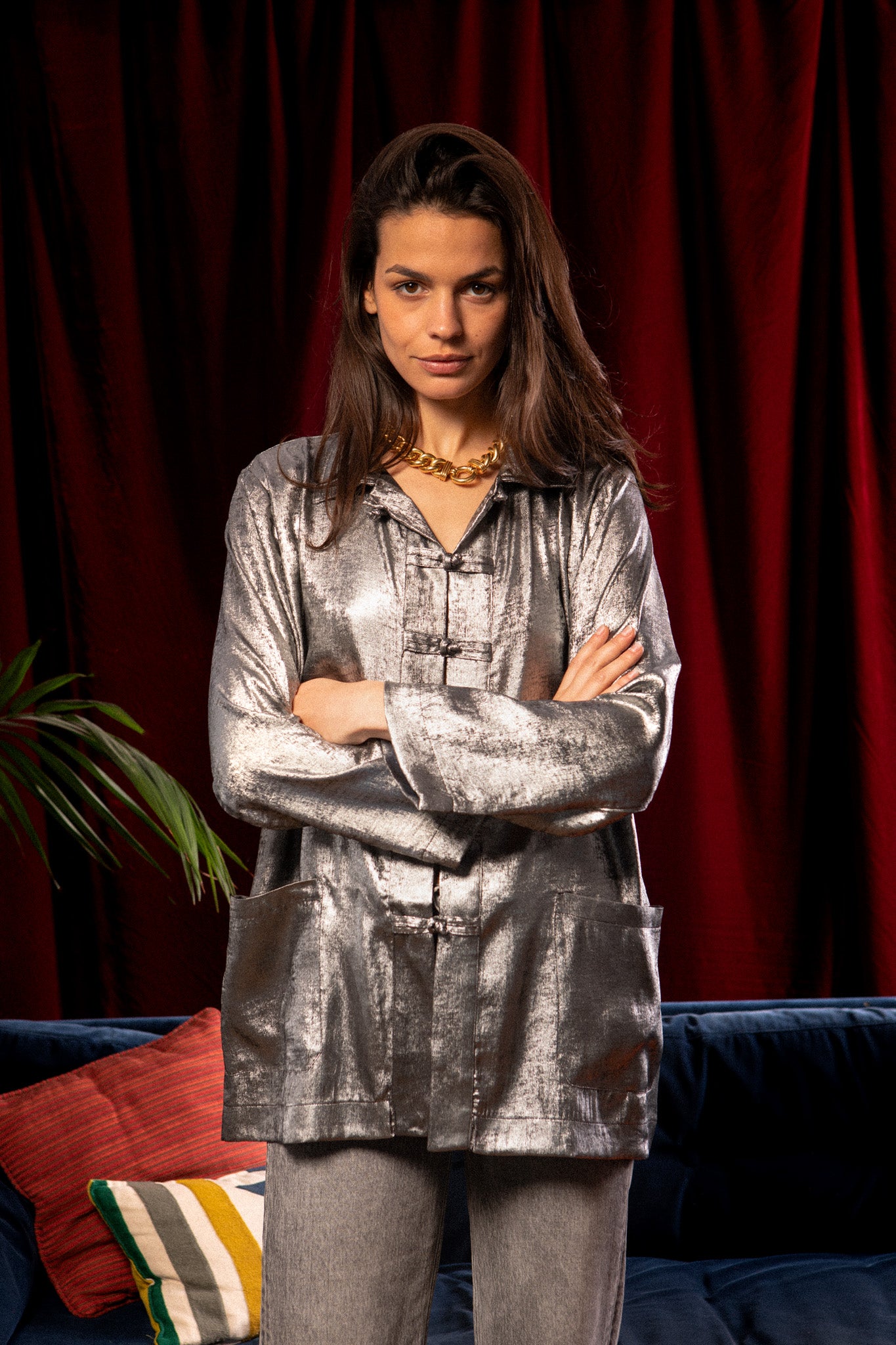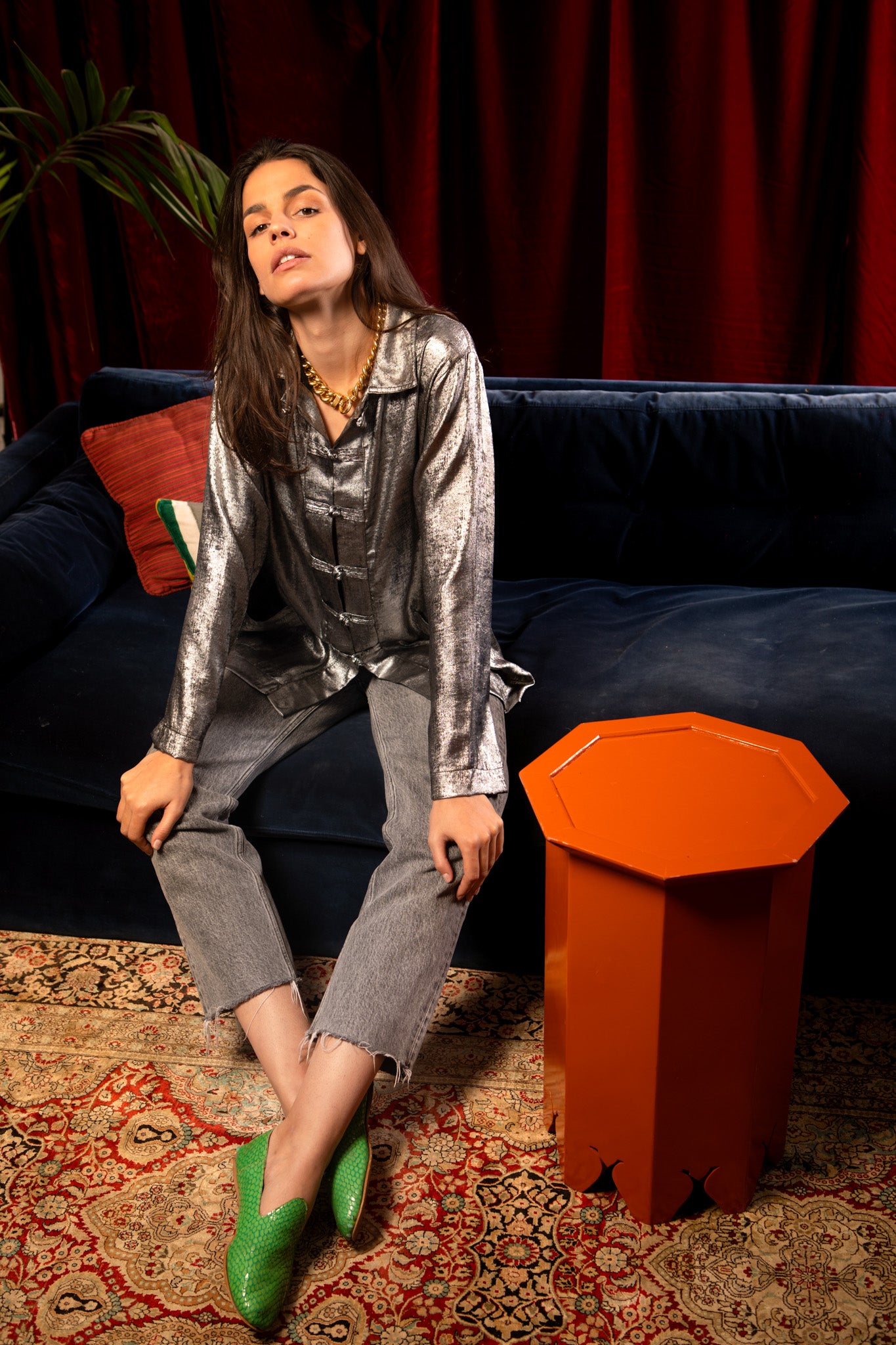 Size Chart
Coats / Jackets
UK
6
8
10
12
14
16
18
20
USA
2
4
 6
8
10
12
14
16
France
34
36
38
40
42
44
46
48
Above Bust

 

(cm)
77
79
83
87
92
97
103
109
Bust

 

(cm)
82
84
88
92
97
102
108
114
Below Bust (cm)
68
70
74
78
83
88
94
100
Sleeve Length (cm)
61.7
62
62.3
62.6
63
63.4
63.9
64.4
Bicep (cm)
31.5
32
33.4
34.8
36.7
38.6
41
43.4
Dresses
UK
6
8
10
12
14
16
18
20
USA
2
4
 6
8
10
12
14
16
France
34
36
38
40
42
44
46
48
Above Bust

 

(cm)
77
79
83
87
92
97
103
109
Bust  (cm)
82
84
88
92
97
102
108
114
Below Bust

 

(cm)
68
70
74
78
83
88
94
100
Waist

 

(cm)
62
64
68
7
77
82
88
94
High Hip

 

(10cm from waist)
79
81
85
89
94
99
105
111
Skirt Length

 

(Pencil Skirt)
65
65
65
65
65
65
65
Jumpsuits
UK
6
8
10
12
14
16
18
20
USA
2
4
 6
8
10
12
14
16
France
34
36
38
40
42
44
46
48
Above Bust (cm)
77
79
83
87
92
97
103
109
Bust (cm)
82
84
88
92
97
102
108
114
Below Bust (cm)
68
70
74
78
83
88
94
100
Waist (cm)
62
64
68
7
77
82
88
94
Outside Leg

 

(cm)
127.7
128
128.5
129
129.6
130.2
131
131.7
Gowns
UK
6
8
10
12
14
16
18
20
USA
2
4
 6
8
10
12
14
16
France
34
36
38
40
42
44
46
48
Above Bust

 

(cm)
77
79
83
87
92
97
103
109
Bust (cm)
82
84
88
92
97
102
108
114
Below Bust (cm)
68
70
74
78
83
88
94
100
Waist (cm)
62
64
68
7
77
82
Tops
UK
6
8
10
12
14
16
18
20
USA
2
4
 6
8
10
12
14
16
France
34
36
38
40
42
44
46
48
Above Bust

 

(cm)
77
79
83
87
92
97
103
109
Bust (cm)
82
84
88
92
97
102
108
114
Below Bust (cm)
68
70
74
78
83
88
94
100
Sleeve Length (cm)
59.7
60
60.3
60.6
61
61.4
61.9
62.4
Trousers
UK
6
8
10
12
14
16
18
20
USA
2
4
 6
8
10
12
14
16
France
34
36
38
40
42
44
46
48
Waist (cm)
62
64
68
72
77
82
88
94
High Hip

 

(10cm from waist)
79
81
85
89
94
99
105
111
Outside Leg (cm)
127.7
128
128.5
129
129.6
130.2
131
131.7
Skirts
UK
6
8
10
12
14
16
18
20
USA
2
4
 6
8
10
12
14
16
France
34
36
38
40
42
44
46
48
Waist (cm)
62
64
68
7
77
82
88
94
High Hip

 

(10cm from waist)
79
81
85
89
94
99
105
111
Skirt Length

 

(Pencil Skirt)
65
65
65
65
65
65
65
65