Nastya - Uzbek Embroidered Suzani Coat
Regular price
$608.00 USD
Regular price
Sale price
$608.00 USD
Unit price
per
Sale
Sold out
Size Chart
Beautiful authentic Uzbek suzani bed cover, that has been redesigned into a longline coat. Suzani is a traditional form of embroidery, the name comes from the Persian word for "needle" and originates from the area that is now known as Uzbekistan. This piece has been lined in fine satin cotton, and hand beaded on some parts. Hidden side pockets.

Nastya is the perfect vibrant ethnic finish to any look.

Handmade & One of A Kind

Composition :
Outer/Lining: 100% Cotton.

Fit and sizing :
Model is 5ft 9" (175cm).
Care instructions

Dry clean only - we recommend you use an eco-friendly provider that avoids harsh chemicals.
Share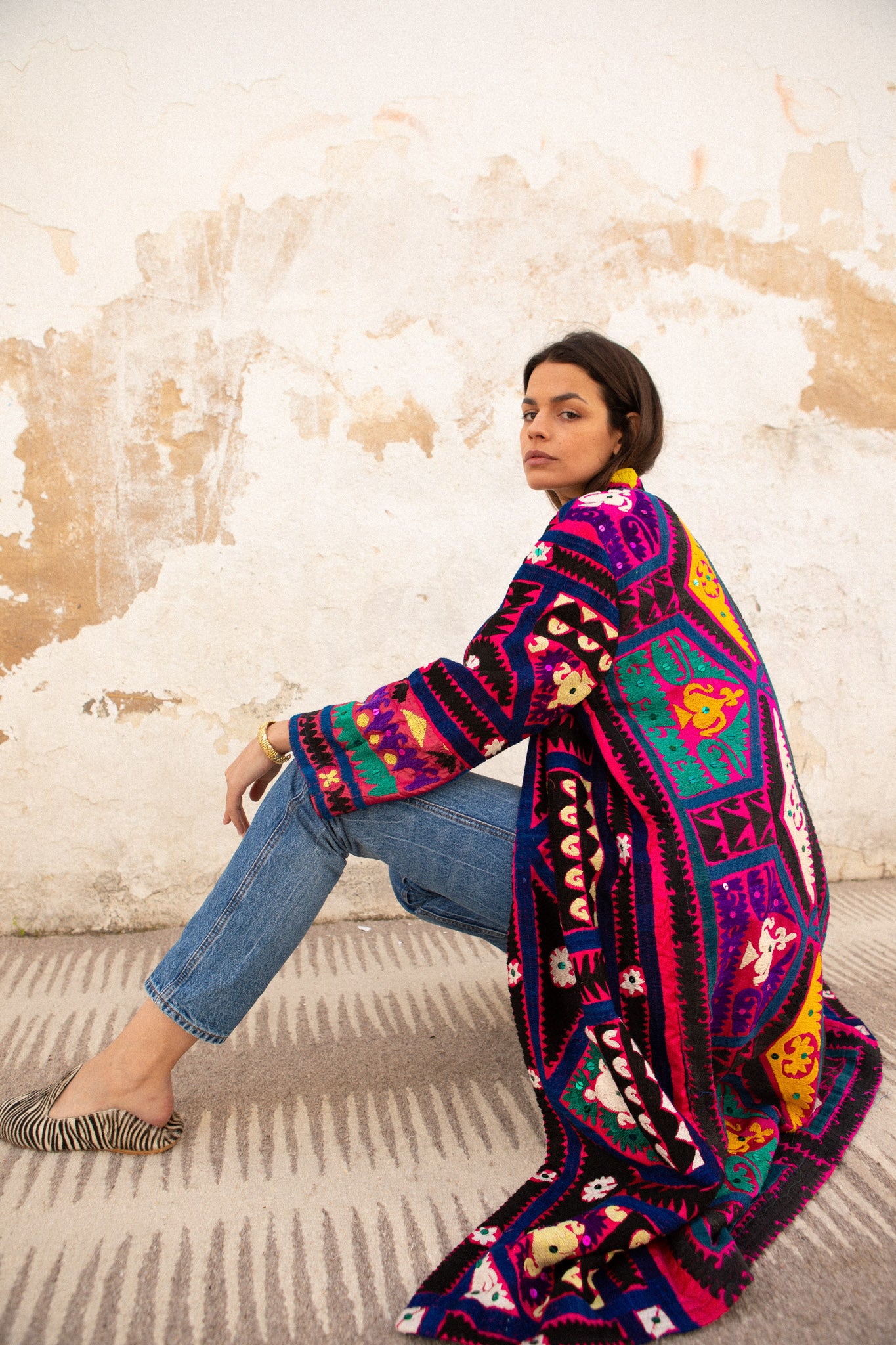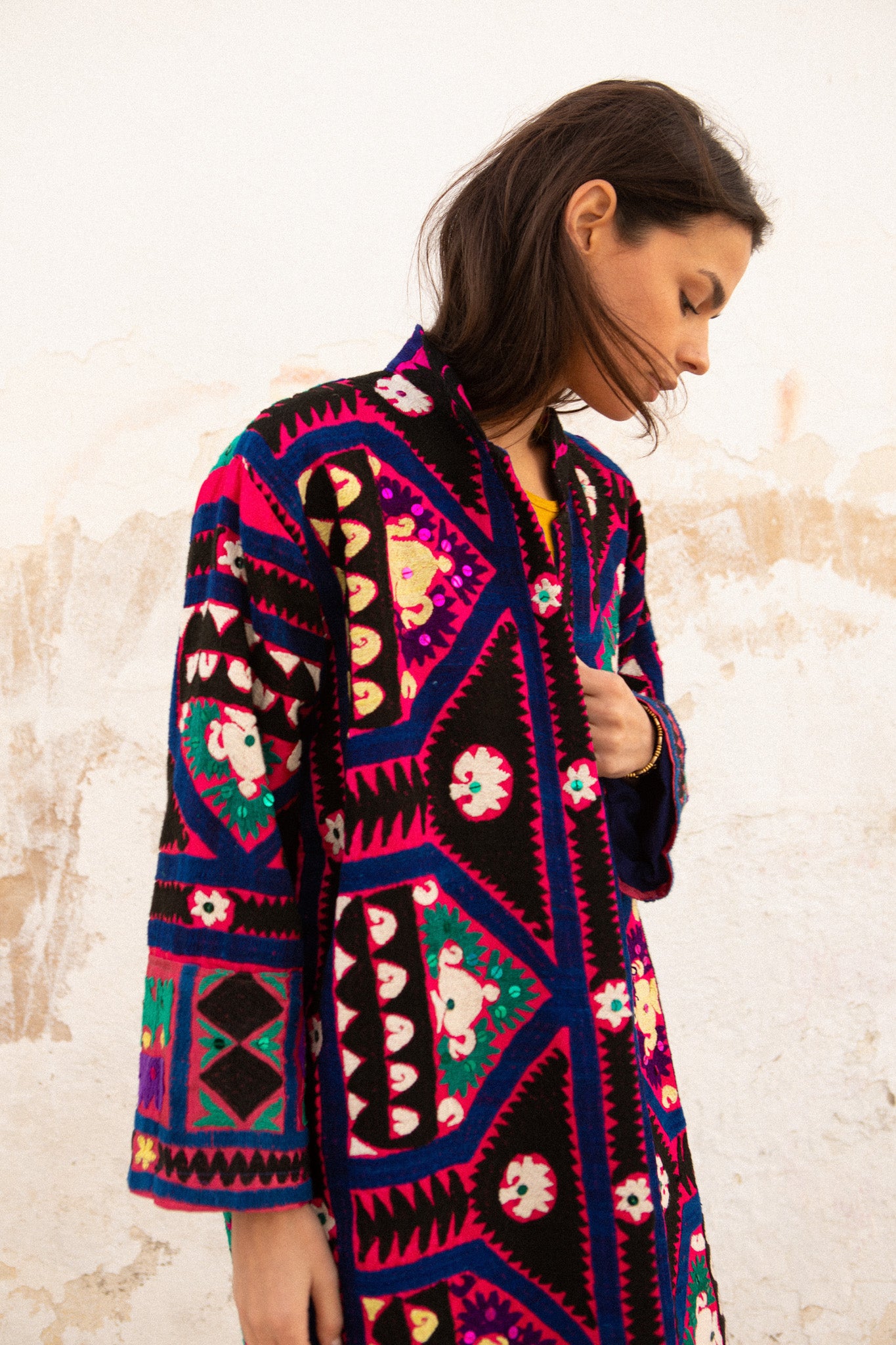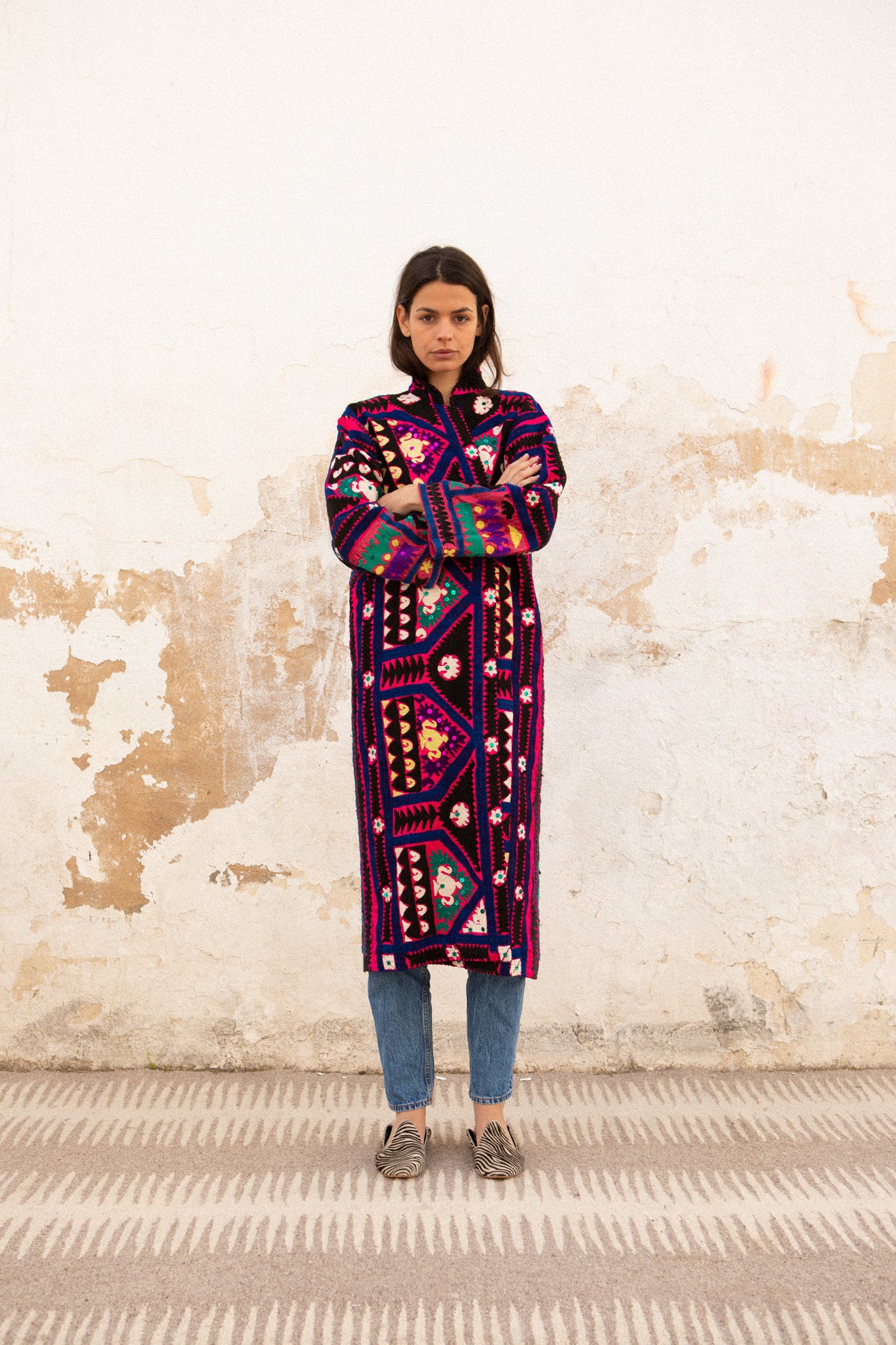 Size Chart
Coats / Jackets
UK
6
8
10
12
14
16
18
20
USA
2
4
 6
8
10
12
14
16
France
34
36
38
40
42
44
46
48
Above Bust

 

(cm)
77
79
83
87
92
97
103
109
Bust

 

(cm)
82
84
88
92
97
102
108
114
Below Bust (cm)
68
70
74
78
83
88
94
100
Sleeve Length (cm)
61.7
62
62.3
62.6
63
63.4
63.9
64.4
Bicep (cm)
31.5
32
33.4
34.8
36.7
38.6
41
43.4
Dresses
UK
6
8
10
12
14
16
18
20
USA
2
4
 6
8
10
12
14
16
France
34
36
38
40
42
44
46
48
Above Bust

 

(cm)
77
79
83
87
92
97
103
109
Bust  (cm)
82
84
88
92
97
102
108
114
Below Bust

 

(cm)
68
70
74
78
83
88
94
100
Waist

 

(cm)
62
64
68
7
77
82
88
94
High Hip

 

(10cm from waist)
79
81
85
89
94
99
105
111
Skirt Length

 

(Pencil Skirt)
65
65
65
65
65
65
65
Jumpsuits
UK
6
8
10
12
14
16
18
20
USA
2
4
 6
8
10
12
14
16
France
34
36
38
40
42
44
46
48
Above Bust (cm)
77
79
83
87
92
97
103
109
Bust (cm)
82
84
88
92
97
102
108
114
Below Bust (cm)
68
70
74
78
83
88
94
100
Waist (cm)
62
64
68
7
77
82
88
94
Outside Leg

 

(cm)
127.7
128
128.5
129
129.6
130.2
131
131.7
Gowns
UK
6
8
10
12
14
16
18
20
USA
2
4
 6
8
10
12
14
16
France
34
36
38
40
42
44
46
48
Above Bust

 

(cm)
77
79
83
87
92
97
103
109
Bust (cm)
82
84
88
92
97
102
108
114
Below Bust (cm)
68
70
74
78
83
88
94
100
Waist (cm)
62
64
68
7
77
82
Tops
UK
6
8
10
12
14
16
18
20
USA
2
4
 6
8
10
12
14
16
France
34
36
38
40
42
44
46
48
Above Bust

 

(cm)
77
79
83
87
92
97
103
109
Bust (cm)
82
84
88
92
97
102
108
114
Below Bust (cm)
68
70
74
78
83
88
94
100
Sleeve Length (cm)
59.7
60
60.3
60.6
61
61.4
61.9
62.4
Trousers
UK
6
8
10
12
14
16
18
20
USA
2
4
 6
8
10
12
14
16
France
34
36
38
40
42
44
46
48
Waist (cm)
62
64
68
72
77
82
88
94
High Hip

 

(10cm from waist)
79
81
85
89
94
99
105
111
Outside Leg (cm)
127.7
128
128.5
129
129.6
130.2
131
131.7
Skirts
UK
6
8
10
12
14
16
18
20
USA
2
4
 6
8
10
12
14
16
France
34
36
38
40
42
44
46
48
Waist (cm)
62
64
68
7
77
82
88
94
High Hip

 

(10cm from waist)
79
81
85
89
94
99
105
111
Skirt Length

 

(Pencil Skirt)
65
65
65
65
65
65
65
65